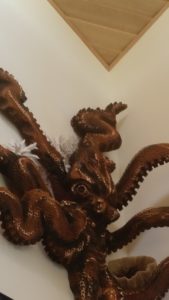 8 slabs of Western red cedar
40 feet of tentacles
18,000 (yes, really!) texturing marks
14 feet of span across a living room wall
1 giant octopus sculpture
The idea for this sculpture came after I visited my client's house for a consultation. The house sits on a cliff overlooking Puget Sound, and she collects starfish and corrals from the beach below. I thought, why not bring the sound directly to her?
So what went into creating this monster of a wood sculpture?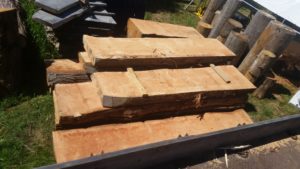 First, the materials. Earlier in the year, I scored a truckload of beautiful, salvaged Western red cedar logs.
I took one of the largest logs over to Bruce and Ron at Wild Edge Woods. They're sawmill in Oso is the only place I trust to mill my wood. These eight, kiln-dried slabs became the basis for the sculpture.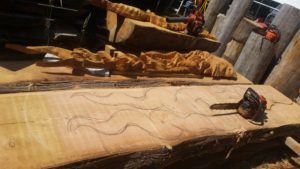 After doing a rough sketch of the tentacles on the wood, I used my mid-sized chainsaw to block them out.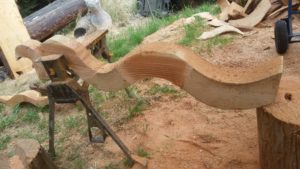 Next came the texturing. I used a hole saw to roughly cut out the octopus' suction cups, then a small chainsaw blade to even them out.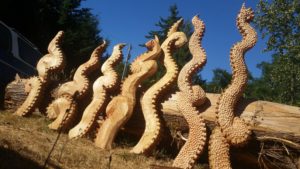 A die grinder with a carbide bur bit made the texturing marks…And more texturing marks…all 18,000 of them.
Done with the texturing, I got to move onto something a little less tedious. Sculpting the body of the octopus took a good deal of planning, because I needed to make sure each tentacle extension not only fit flush onto it (I attached them with bolts and wood glue) but also ended up at the right angle to fit with the entire sculpture and sit well on my client's wall.
Then came the jellyfish and kelp.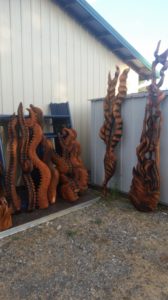 And finally, the wood finish.
Taking inspiration from the art that came out of Jules Verne's 20,000 Leagues Under the Sea, I created a graphic print finish by painting, burning and then removing ash with a wire brush. This also helps give the impression of depth by giving the sculpture highlights and shadows.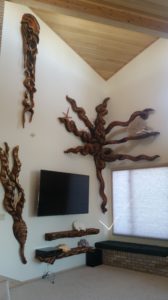 Installation took two full days. Before I left, my client had already begun to display a few of her collected ocean objects on the sculpture, bringing Puget Sound to her living room, just as I intended.